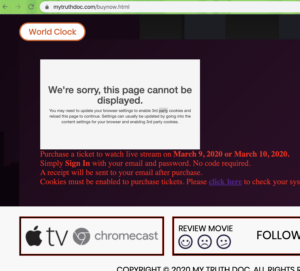 Corey Feldman has been on a media tour for weeks to promote a film he created to out pedophiles in Hollywood who he claims "raped" his friend Corey Haim and himself when they were teens.
The documentary-style film was set to be live-streamed at 11 pm EST on March 9. The ticket price was $20.
While it's not known how many tickets Corey sold, many twitter users were lined up to comment on the film as it was set to begin. As 11 pm EST approached, users started experiencing problems with the website.

First, tickets could not be purchased using the Chrome web browser. Once that issue was addressed and tickets were purchased, the login page became a mix of loading errors with such classic hits as "403 Forbidden" and "plain black screen".
A little after time for the live stream to start, Corey Feldman tweeted that the premiere would be delayed by 15 minutes. That 15 minutes came and went with users still unable to log in to view the movie.
THE FILM IS STARTING 15 MIN LATE DUE 2 THE WEBSITE CRASHING! WHICH IS ACTUALLLY A GOOD THING! SO #STAYTUNED pic.twitter.com/onYiNJodFs

— Corey Feldman (@Corey_Feldman) March 10, 2020
After some black screens, login failures and messages saying that hackers were interfering with the stream, users were still waiting to view the film at 1:30 am. Some users claimed to have been able to log in and view a few moments of the film before getting more error messages.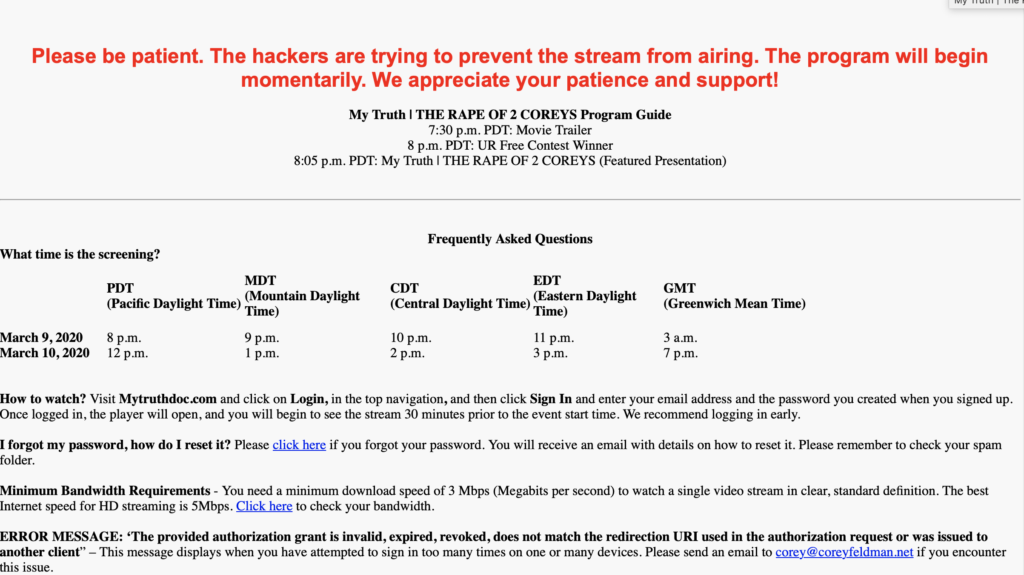 There is another showing of the film scheduled on the evening of March 10, however, we don't like the odds that this documentary will ever see the light of day. And if it does, it's unlikely to provide any new information not already gleaned from his book. In the book, the names were changed to avoid litigation, but it was still clear to many who Corey Feldman accused of sexual abuse and grooming.