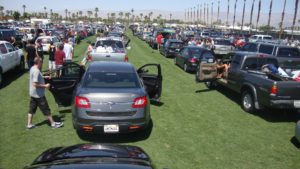 Coachella and Stagecoach art and music festivals have been rescheduled due to concerns about the spread of COVID-19.
Coachella events scheduled in Riverside County, California for the weekends of April 10th and April 17th have been canceled or postponed, to a hopefully more coronavirus friendly date in October.
Organizers of the festivals announced that all tickets purchased for the events in April will be honored at the reschedule dates in October. The new dates for the Coachella festival are the weekends of October 9th and October 16th.
The country music Stagecoach festival originally scheduled for April 24th has been rescheduled to October 23.
Anyone not able to attend in October should be able to get a refund for their ticket after March 13.
Coachella is far from the only event being canceled or rescheduled due to COVID-19. South by Southwest is a no-go this year and Ultra Music Festival in Miami was also canceled.