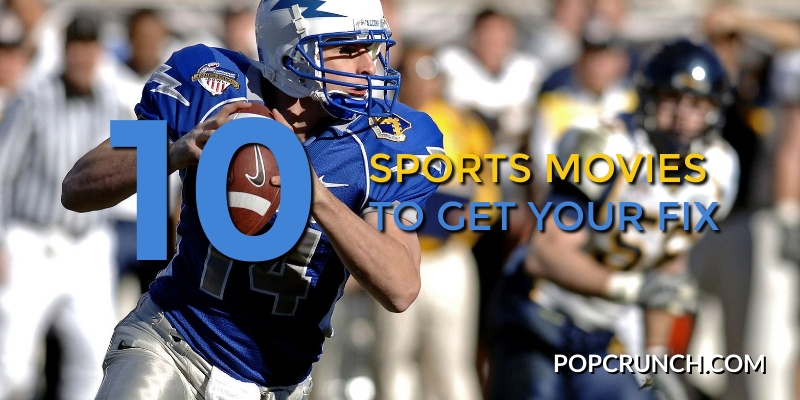 Sports fan or not, there are some sports movies that are just iconic whether that is because they're funny, heartwarming, or based on a riveting true story.
In this list, we're going to talk about ten of the most iconic sports movies of all time, ranging from the hilariously ridiculous Space Jam to more profound and more exciting films like Rocky, and Remember the Titans.
Check it out. Just so you know, if you have been living under a rock and haven't seen these films yet, there are a few spoilers ahead.
Space Jam is a 1996 cinematic masterpiece that combines live-action with animation. It was one of the first few movies to mix these two styles and has a star-studded cast including Michael Jordan, Bill Murray, Danny DeVito, Larry Bird, Charles Barkley, and more. I
t is the highest-grossing basketball movie of all time. In the film, some aliens plot to kidnap Bugs Bunny, who challenges them to a basketball game to decide his fate and the fate of the other Looney Tunes. Hilarity ensues.
Cool Runnings is another family comedy film that hails from the 90's.
Released in 1993, this movie is about four men from Jamaica with the dream of making it to the Olympics as a bobsledding team. Of course, there isn't a lot of snow in Jamaica to help with the training aspect.
This is one of the most popular Olympic films of the past few decades, and it is based on a true story. However, a member of the real Jamaican bobsled team says that the Disney film is mostly fiction.
We Are Marshall is actually considered a historical drama biopic; it tells the story of the tragic death of 75 people as a result of a plane crash.
The lives taken by the plane included Marshall University's football team, boosters, and other staff members. The new coach, Jack Lengyel, is played by Matthew McConaughey and is tasked with helping to rebuild the community's spirit and the team.
Despite the rules and lack of experience in the way, the team pushes through in this incredible story about rebuilding the sports program and the community.
The Blind Side is another emotional sports flick that's based on a true story.
Michael Oher was a homeless teen that found himself falling out of the school system and the foster system over the course of his life. The Tuohy family finds him and gives him a place to rest, and he slowly becomes part of the family.
Due to his size, Michael turns out to be an incredible football player. The family helps him to get on his feet and succeed academically so that he can go on to play at the college level. The real-life Michael went on to play for the Baltimore Ravens.
Coach Carter, while it may be surprising to a lot of students today, is based on a true story.
Now, you have to have a certain GPA to play high school sports. But, in the time that this story took place, Coach Carter ended up shutting down the basketball team due to poor academic performance. He was praised in national media but faced a lot of community backlash for his harsh stance.
However, in the end, the team comes together and plays a riveting playoff game, and many of the boys went on to go to college, which may not have happened without Carter's encouragement.
6
Talladega Nights: The Ballad of Ricky Bobby
Racing is a sport. If you ain't first, you're last. These are just some of life's most simple truths.
Will Ferrell stars alongside two other notable comedians, Sacha Baron Cohen and John C. Reilly in this 2006 film.
Ricky Bobby was a NASCAR superstar until a French Formula One racer came along and knocked him off the top of the pole. Ricky's life spirals for a while, but upon reconnecting with his estranged father, he's able to pull himself together and get back on the track.
Angels in the Outfield is a 1994 remake of a film by the same name that was initially released in 1951.
A foster child named Roger really loves the Anaheim Angels, who just so happen to be the worst team in the league. His estranged father says that if the team makes it to the World Series (knowing they won't), he'll get the family back together.
Rogers asks for some divine intervention to help this become a reality, and it just so happens, that there is an angel ready to come down and help.
Rocky was the first film in the Rocky series, and it was released in 1976. It would go on to have six sequels.
It follows the story of a small-time boxer named Rocky Balboa who is chosen at random to take on the reigning world heavyweight champion when the man scheduled to participate in the fight is injured.
This film won the best picture at the 49th Academy Awards and has become one of pop culture's favorite movies.
The Sandlot is a coming of age film that was released in 1993. It could go down in history as one of the most-quoted films in history with the iconic "You're killing me, Smalls." (A funny side note, one of our editors was familiar with the quote but had never seen the movie! That's reach.)
It follows the story of Scottie Smalls, who moves into a new neighborhood and makes friends with a group that likes to play baseball down at the sandlot. They have quite a few adventures, ranging from funny to touching.
Remember the Titans is indubitably the best football movie of all time. If you don't agree, you haven't seen it, or you have a passion for being incorrect.

The film stars Denzel Washington and takes place in 1971. In the small town of Alexandria, Virginia, there was nothing more important than high school football. When the school board of Alexandria has to integrate an all-black high school with an all-white high school, it is an uphill battle to keep the sport alive at the newly-combined high school.

This is an incredible story about what it really means to be a team. Ryan Gosling is in it. This movie has everything.