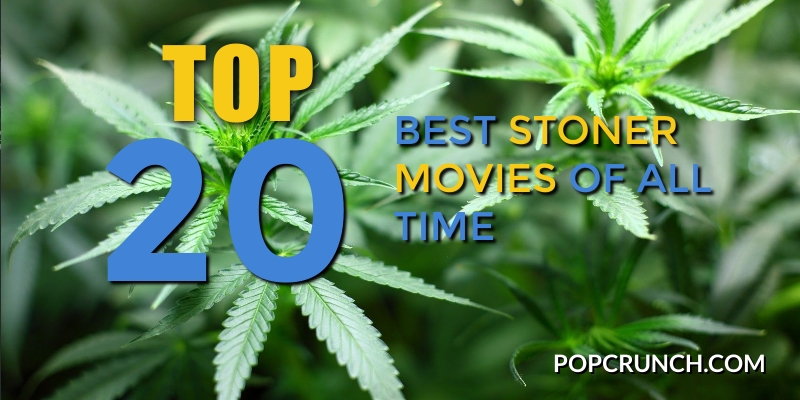 Dude… in honor of the awesomeness that is Pineapple Express, starring Seth Rogan and James Franco, along with it being 420 all month, we offer up our 20 best stoner movies of all time.
Cast:
Jason London
Rory Cochrane
Adam Goldberg
Matthew McConaughey
Milla Jovovich
Ben Affleck
Parker Posey
It doesn't get much better than this – following 70's era high school kids on their last day of school. Dazed and Confused is more than getting high on the last day of school – there's a lot of coming of age shit going on too that rounds this out to a great little movie.

Among the circle of life (outgoing seniors hazing incoming freshman) and the look at all of your stereotypical highschool types (nerds, jocks, stoners, cheerleaders), you've got funny stuff like Ron Slater's (Rory Cochrane) take on George and Martha Washington getting high: "Every day George would come home, she'd have a big fat bowl waiting for him, man. She was a hip hip hip lady."

Also notable is the pre-all-star cast here, including Ben Affleck, Adam Goldberg, Matthew McConaughey, Milla Jovovich, Joey Lauren Adams, and Parker Posey.
Cast:
Jeff Bridges
John Goodman
Steve Buscemi
Julianne Moore
The Big Lebowski delivers more than stoner one-liners, giving thoughtful consideration to what it is that makes "The Dude" (played with laid-back precision by Jeff Bridges) tick.

While plenty criticized this Coen Brothers classic for being one of the weakest of their films, plenty of fans (hey, there's even a Lebowski Fest!) sit back and enjoy the ride after a case of mistaken identity for The Dude sets him on an adventure he didn't sign on for. After all, he's just The Dude.
Cast:
Cheech Marin
Tommy Chong
Cheech and Chong prove they are the godfathers of weed by taking their comedy routine to the big screen in their first full-length movie.

With so many Cheech and Chong stoner flicks to choose from, we went with the original and probably the best of the series, Up in Smoke, if only for the prestigious honor of having the biggest joint in film history.

For your viewing enjoyment, check out the video clip below, where Cheech declares "I can smoke anything" of his special blend made with Labrador (part marijuana, part dog feces 'cause his dog ate his stash):
4
Harold and Kumar Go to White Castle/Harold and Kumar Escape from Guantanamo Bay
Cast:
Kal Penn
John Cho
A big shout out has to be given to both Harold and Kumar films – the original is the ultimate stoner munchy run gone awry.

After getting stoned, pals Harold and Kumar go in search of the White Castle burger, which seems like a simple enough task. Hilarity ensues, including Neil Patrick Harris in all his Doogie Howser ecstasy glory and the boys score a giant bag of weed (the discovery sets off a montage of Kumar hanging out with the bag, having sex, getting married and working through marital problems with his new love).

The second installment of Harold and Kumar finds the boys mistaken as terrorists when their bong looks like a bomb to passengers aboard a flight to Amsterdam.
Cast:
Ice Cube
Chris Tucker
Nia Long
Bernie Mac
John Witherspoon
There's more to Friday than two guys getting high and sitting on their front porch on a Friday. Friday became an instant stoner hit with the hilarious roles played by Ice Cube and Chris Tucker.

Ice Cube's Craig Jones is fired on his day off, while Chris Tucker's Smokey is in a bit of trouble. Stoners often face an obstacle in these films – in this case, the guys have to figure out how to get $200 to repay drug dealer Big Worm by 10 p.m. on Friday (because Smokey smoked the pot he was supposed to sell) – or be killed.

Two sequels, Next Friday and Friday After Next, followed.
Cast:
Allen Covert
Nick Swardson
Doris Roberts
Linda Cardellini
Lest you think that Grandma's Boy is the story of a mild-mannered guy who still idolizes his gramma, think again. Starring Allen Covert, who typically appears in pal Adam Sandler's flicks, this Grandma's Boy shows he can carry a stoner flick just by being the loveable loser.

Passed over by critics and movie audiences, Grandma's Boy stars Covert as Alex, a 35-year-old video game tester who loves to smoke pot with his roommate Josh. Only Josh spends all the rent money on hookers and the pair get tossed out of their place.

Alex goes to live with grandma and her two friends (Doris Roberts, Shirley Jones, and Shirley Knight). And, well, it's totally dumb and immature. But so funny.
Cast:
Seth Rogen
James Franco
Gary Cole
Rosie Perez
Danny McBride
Just released this week, Judd Apatow's Pineapple Express is part stoner buddy comedy, part action flick, — but guaranteed to deliver laughs as it follows dealer and pothead in an unlikely adventure.

Starring Seth Rogen as pot consumer Dale to James Franco's pot dealer Saul, the two potheads end up on the run from a bad cop (Rosie Perez) and drug lord (Gary Cole) after Saul is witness to a murder.

Seth Rogan naturally draws on his stoner experience and James Franco shows a funnier side over some of his serious roles. Pineapple Express is a (then) new rare strain of weed that Saul explains is so special "it's almost a shame to smoke it…it's like killing a unicorn."
8
Tenacious D in The Pick of Destiny
Cast:
Jack Black
Kyle Gass
Dave Grohl
Kickass music, Jack Black, Kyle Gass, weed and psychedelic mushrooms. What more could you ask for in Tenacious D's search for the coveted Pick of Destiny – a chip from the tooth of Satan himself?

Their quest for the magical pick leads them to the ultimate showdown against Satan, played by Dave Grohl. But will they possess the magical power of the pick, rock open mic and win the prize to pay their rent?

Hey, at least they nab Satan's horn and create the "Bong of Destiny."
9
Jay and Silent Bob Strike Back
Cast:
Jason Mewes
Kevin Smith
Shannon Elizabeth
If there's one thing Kevin Smith carried through his many films, it's the continuity of lazy stoners Jay and Silent Bob.

The pair of slackers are featured in their own adventure in Jay and Silent Bob Strike Back, with the guys on a mission to get the money rightfully owed to them for the making of a "Bluntman and Chronic" movie – or shut it down completely.

This is the farthest from standing in front of convenience stores the pair have traveled… and in Jay and Silent Bob Strike Back, it's the potheads who save the day!
Cast:
Dave Chappelle
Guillermo Díaz
Jim Breuer
Harland Williams
If there's anything that Jim Breuer is good at (and trust us, there's not much water in his talent pool), it's playing the half-baked halfwit.

The comedic genius of Dave Chapelle gives the otherwise mediocre film a boost, plus appearances by Steven Wright, Tommy Chong, Janeane Garofalo, Willie Nelson, Tracy Morgan, Snoop Dogg, Jon Stewart, Stephen Baldwin, and Bob Saget don't hurt either.

Thurgood (Chappelle) and his friends Brian (Breuer) and Scarface (Diaz) need to bail their friend Kenny (Harland Williams) out of jail but don't have the cash, naturally. The slackers steal medical marijuana from the lab where Thurgood works and start their own business, called Mr. Nice Guy.

A local drug dealer threatens to kill the guys for stealing business. Oh, and a pouch of Jerry Garcia's ashes figures nicely into the plot too.
11
Fast Times at Ridgemont High
Cast:
Sean Penn
Jennifer Jason Leigh
Judge Reinhold
Phoebe Cates
Ray Walston
Is there no stoner cooler than Jeff Spicoli, played to hilarious effect by Sean Penn?

From the first moment we spy the pothead surfer, to his well-known movie quote: "All I need is some tasty waves, a cool buzz and I'm fine" – Fast Times gave us a taste of just how laid back a stoner can be.

Bonus cool points for Spicoli's exchanges with history teacher Mr. Hand, who is convinced all his students are smoking dope. Spicoli to Mr. Hand: "Hey bud, what's your problem?"
Cast:
Method Man
Redman
Mike Epps
Silas P. Silas (Method Man) and Jamal King (Redman) smoke their friend.

Well… sort of. When pal Ivory dies, Silas uses his ashes as fertilizer for growing marijuana. The pair smoke the pot – and in doing so, the ghost of Ivory is summoned, conveniently giving them the answers to their college entrance exam.

They get by with a little help from a (dead) friend, landing acceptance to Harvard… but naturally, the magical weed is stolen and their luck runs out.
Cast:
Seth Rogen
Katherine Heigl
Paul Rudd
Leslie Mann
While not the central plotline of Knocked Up, the subplot involving a group of stoners trying to get a web site a la Mr. Skin up and running provides some of the funniest scenes in the film.

Seth Rogen delivers the stoner persona of Ben Stone well – conflicted by having to put his pothead ways behind him and become more responsible as he prepares for a baby. Breaking away from his stoner pals (Jay Baruchel, Jonah Hill, Jason Segel and Martin Starr) is hard to do because they're just too much frickin fun.
Cast:
Jeremy Piven
David Spade
Chris Young
Jon Favreau
While it's not strictly a pothead movie, PCU has elements of stoner activity among the n'er-do-wells of The Pit and the campus potheads, who spend their days playing Frisbee. Add in a pre-Swingers Jon Favreau who epitomizes the stoner sent on a fool's errand to get the beer (but ends up picking his nose in a parking lot).

Among the great dialog is the miscommunication from an old lady on the street as heard by stoned Gutter – he interprets her "Can you show me where the campus is" as "Can you blow me where the pampers is?"

Ultimately, Gutter saves the day when George Clinton and Parliament-Funkadelic stumble upon the Favreau character and agree to play at their party and save the failing slacker house from being shut down.
Cast:
Ashton Kutcher
Seann William Scott
Jennifer Garner
Marla Sokoloff
Proof positive that getting baked makes you lose shit, Ashton Kutcher epitomized the stoner dude to perfection in "Dude, Where's My Car?"

Sure, Kutcher and Sean William Scott are complete dipshits, but isn't that part of the fun? Say you're above this mediocre pothead flick and we'll call you a liar. Just try not to laugh at how stupid Jesse and Chester are and the ridiculous plot (Seriously… aliens?) – stupid, yeah. But funny too.

We're especially entertained by the Chinese drive-through restaurant lady "And then?…" Bonus points for pre-famous Jennifer Garner.
Cast:
Dorothy Short
Lillian Miles
Dave O'Brien
Thelma White
This 1935 propaganda flick was supposed to scare the crap outta wannabe potheads, but Reefer Madness instead became a cult classic.

Watch what happens when you smoke marijuana – the horror! The crazed behavior! Beware the perils of pot. Hmm… doesn't quite seem like it made the impression they hoped, but it's good for a laugh now if only to see the wild results of getting high.

How many people did Reefer Madness deter from the ills of pot? We're guessing not many.
Cast:
Doug Benson
Super High Me takes Morgan Spurlock's concept of eating McDonald's for 30 days straight and replaces burgers and fries with pot.

Comedian Doug Benson tackles this documentary head-on, first avoiding pot for 30 days before taking on the challenge of smoking it for 30 days.

What does he discover in the process?

He continues to work his stand up gigs and goes through a battery of tests to see how getting stoned daily impacts his life – he experiences weight gain and decreased lung capacity, but his intelligence scores and sperm count go up (go figure). Not a lot of scientific evidence here, but a good time anyway.
Cast:
Billy Bob Thornton
John Lithgow
Hank Azaria
OK, so you're not going to find your lighthearted buddy stoner comedy in Homegrown, but that doesn't mean you should pass it by.

A little bit comedy, drama and thriller combined, Homegrown follows a trio of bumbling pot farmers as they try and conduct business as usual when their boss is murdered.

Millions of dollars are at stake, but nothing is simple, naturally, as Jack (Billy Bob Thornton), Carter (Hank Azaria) and Harlan (Ryan Phillipe) take matters into their own inept hands and just get deeper in shit.
Cast:
James Roday
Sam Huntington
Jay Paulson
Charlie Finn
Directed and co-written by actor Thomas Haden Church (of TV's Wings and the movie Sideways), Rolling Kansas looks at three brothers' (and their friends) quest for a magical marijuana forest that can solve all of their financial woes.

While there's not much actual pot smoking in the film, the search for a goldmine of government marijuana puts Rolling Kansas firmly in our top 20 list. Plus there are all the makings of a crazy road trip with the promise of a pot-filled happy ending.
Cast:
Brenda Blethyn
Craig Ferguson
Somewhere among the stoner humor comes an intelligent film about weed. Watching refined British ladies get totally stoned during a tea party is reason enough to check this one out.

Recent widow Grace (Brenda Blethyn) has to raise money to pay the huge debt left by her dead husband and save her home. Aided by her Scottish gardener (Craig Ferguson), she turns his small marijuana crop into a booming business.