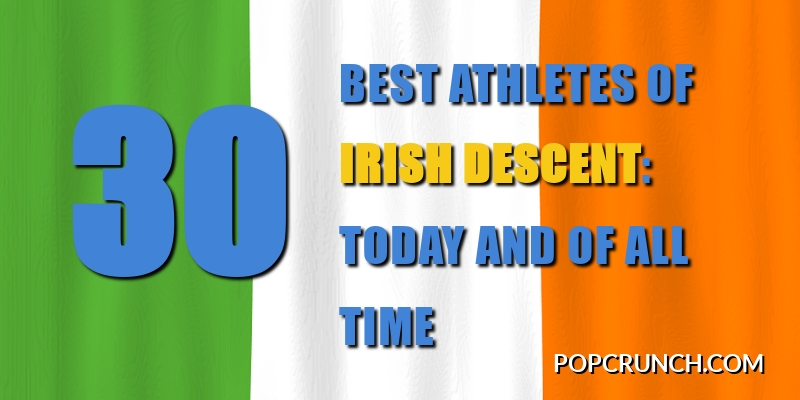 Watching athletes perform at the peak of their career is astounding to many. After all, sports and athleticism have been revered practically since the dawn of civilization.
Ancient sculptures and artwork depict some of the warriors and athletes of their time. In more modern times, as a culture we watch a multitude of sporting events live or broadcasted on one of the many sports networks available.
Regardless of the sport, spectators are always wowed by the abilities of those professional athletes.
Going Pro
Becoming a professional athlete requires a lot of hard work and training paired with physical talent and superb reflexes. While much of the athleticism can be learned and perfected through training, some innate talent often lies within the person themselves.
Could having some Irish ancestry possibly contribute to having a good career as an athlete? The answer is uncertain but below you can find the names of some famous and astounding athletes who all share that one thing in common, whether it's a little or a lot of their genetic makeup.
The following terrific Irish athletes are listed in alphabetical order by their last name.
Many do not realize that the great professional boxer, Muhammad Ali was of partially Irish descent.
Ali was mostly African with English and Irish, however, without him, this list would be incomplete. Cassius Marcellus Clay, Jr. was his birth name but changed his name after converting to Islam and becoming a Muslim in 1961.
His nickname is simply, "The Greatest" and many agree that he was indeed that.
Ali began his training as an amateur boxer at the early age of 12. By the time he was 18, he had won a gold medal in the light heavyweight division of the 1960 Summer Olympics.
By the time he was 22, he had won the 1964 world heavyweight championship versus Sonny Liston. As the leading heavyweight boxer of his era, he headlined some of the more famous boxing matches in history such as the Thrilla in Manilla versus Joe Frazier and The Rumble in the Jungle versus George Foreman.
In a time when managers often spoke for their fighters, Ali was outspoken and charismatic.
Lance Armstrong began competing as a triathlete as early as age 16.
In 1989 and 1990, Armstrong was a national sprint-course triathlon champion. By 1992, he had begun his career as a professional cyclist and was with the Motorola team.
While Armstrong had some success in professional cycling, in 1993 he was diagnosed with metastatic testicular cancer. After his recovery, he founded the Lance Armstrong Foundation (currently the Livestrong Foundation) to assist other cancer survivors.
He returned to racing in 1998 and won seven Tour de France titles as well as a bronze medal in the 2000 Summer Olympics.
Unfortunately in 2012, it was found that Armstrong was using performance-enhancing drugs during his career and all titles which he won after August of 1998 were stripped from him. He was also banned from any competitive sports which follow the World Anti-Doping Code.
Rick Barry is a former professional basketball player for both the ABA and the NBA.
He was inducted into the Naismith Memorial Basketball Hall of Fame in 1987 and is the only basketball player to lead the NCAA, ABA, and NBA in scoring for a single season.
The Barry name has continued on in the NBA as his sons Brent, Jon, Drew, and Canyon Barry have all played professional basketball as well.
This American boxer fought under the name James J. Braddock and had several nicknames in his career.
He was nicknamed Bulldog of Bergen, Pride of the Irish, Pride of New Jersey, and Cinderella Man. He was called "Cinderella Man" because of his terrific comeback in 1935 when he defeated Max Baer for the heavyweight title.
Previously, he had been forced to work on the docks and collect social assistance during the Great Depression. It is said that Braddock had an iron chin and paired with a strong right hand and a great counterpunching style made him a formidable opponent.
Even those who don't follow sports closely probably know the name Tom Brady.
Many people consider Tom Brady to be the greatest quarterback of all time since he's won so many awards and accolades in his career. He currently holds the record for the most Super Bowl wins by a player as well as the oldest quarterback to win a Super Bowl at the age of 41.
Tom Brady has won four Super Bowl MVP awards as well as three NFL MVP awards in his professional football career which began when he was drafted by the New England Patriots in 2000.
In 2020, Brady became a member of the Tampa Bay Buccaneers.
The Irish American Billy Conn, born William David Conn, was also known throughout most of his professional boxing career as "The Pittsburgh Kid".
Conn was a Light Heavyweight Champion who is well known for his fights against Joe Louis. Throughout his career, he had only 11 losses, one draw, and 63 wins – 14 of them by knockout.
Jimmy Connors is considered by many to be the greatest tennis player of all time.
Today, Jimmy Connors still holds three Open Era men's singles records with 109 titles, 1,274 match wins, and 1,556 matches played. Among other joint Open Era titles, Connors has earned two Wimbleton titles, five US Open titles, and an Australia Open title.
In addition, Connors also earned 17 Grand Prix Super Series titles and three year-end championships.
Connors won three majors within a single calendar year in 1974, only the second man in the Open Era to do so. However, he was not permitted to compete in the French Open that year.
Connors won both the US Open and Wimbleton in 1982. Connors retired at the age of 43 in 1996.
John Daly is a professional golfer well known for his driving distance off the tee. In fact, this trait has earned him the nickname "Long John".
Daly was the first player on the PGA Tour to average more than 300 yards per drive over a single season in 1997. He also averaged more than 300 yards per drive each season from 1999 to 2008.
Two of his most notable victories were the 1991 PGA Championship which was dubbed a "zero to hero" victory and the 1995 Open Championship when he won against Costantino Rocca.
John McEnroe is one of the greatest tennis players of all time and was known for having some confrontational on-court behavior at times.
McEnroe held the number one ranking in both singles and doubles with 77 singles titles and 78 doubles titles, still a record for the highest men's combined total of the Open Era.
Aside from winning many titles in singles, doubles, the US Open, and Wimbledon, McEnroe's 1984 singles match record of 82 – 3 is still the best single-season win rate of the Open Era.
When it came to year-end tournaments, McEnroe brought his top game, winning eight singles titles and seven titles for doubles, records for each.
McEnroe has been named the ATP Player of the Year as well as the ITF World Champion, not once, but three times — in 1981, 1983, and 1984.
McEnroe also had a hand in five Davis Cup titles for the U.S. and later served as team captain.
The Irish and Native-American professional boxer, William Harrison "Jack" Dempsey is a member of the International Boxing Hall of Fame and was in the Boxing Hall of Fame which existed previously.
The Ring magazine has Dempsey ranked as tenth in their list of all-time heavyweights and seventh among the Top 100 Greatest Punchers.
Dempsey competed from 1914 to 1927 and was the world heavyweight champion from 1919 to 1926.
Dempsey was nicknamed both "Kid Blackie" and "The Manassa Mauler" during his boxing career.
It's stated that Dempsey had an aggressive fighting style paired with great punching power that made him a formidable opponent in the ring. Dempsey was one of the most popular fighters of his time and his fights were known to set both attendance and financial records, including the first million-dollar gate.
John Elway is the general manager and president of football operations for the Denver Broncos of the NFL. Prior to going into management, Elway was a quarterback for the Denver Broncos, spending his entire 16-year professional career with the team.
At the time of Elway's retirement in 1999, he had the most recorded victories by a starting quarterback and was the second most prolific passer in NFL history.
He was also one of only two players to ever score a rushing touchdown in four different Super Bowl games. Elway and the Denver Broncos won their first Super Bowl title in 1997. They won the Super Bowl again the following year which was the final game of Elway's career of which he was voted MVP.
One of the most notable moments in Elway's football career was the moment known in NFL lore as "The Drive". This was during an AFC Championship Game against the Cleveland Browns in 1987 when Elway helped to engineer a 98-yard touchdown that tied the game.
In 2000, Elway was inducted into the College Football Hall of fame, and later in 2004, he was inducted into the Pro Football Hall of Fame.
Edward Charles "Whitey" Ford, also nicknamed "The Chairman of the Board", played professional baseball as a pitcher.
Whitey Ford spent his entire Major League Baseball career with the New York Yankees which lasted 16 years. Ford was an MLB All-Star ten times and World Series Champion six times in his career.
In 1961, Ford won both the Cy Young Award and the World Series Most Valuable Player Award.
In 1974, Whitey Ford was inducted into the Baseball Hall of Fame. That same year, the Yankees retired Ford's number 16 to honor him.
Jeff Hardy is well known for wrestling with his brother Matt Hardy as one of The Hardy Boyz tag-team wrestlers in the WWF. As a team, they participated in Tables, Ladders, and Chairs matches which were crowd-pleasers blending sensational entertainment and professional wrestling.
Later the team included Lita and became the Team Xtreme. Alongside his brother, Jeff Hardy had held a dozen world tag team championships with WWE, ROH, and TNA.
Jeff Hardy also had success in a singles wrestling career winning a total of six world championships.
He currently performs with WWE with the SmackDown brand.
In addition to his wrestling career, Jeff Hardy has also been involved in projects involving motocross, painting, and music. He is part of the band PerxWhy?Gen – pronounced "peroxygen" – and co-wrote the autobiographical bestseller The Hardy Boyz with his brother Matt.
Matt Hardy is a professional wrestler best known as part of The Hardy Boyz tag team with WWE. In fact, he co-wrote The Hardy Boyz autobiographical book with his brother Jeff, which became a bestseller.
He has also run as a singles performer with promotions such as Impact Wrestling (formerly TNA) and Ring of Honor (ROH).
Currently, Matt Hardy is signed to All Elite Wrestling (AEW).
His wrestling career has spanned three separate decades and has combined entertainment and athleticism utilizing a variety of gimmicks and social media through persona changes throughout his time in the ring.
Matt Hardy has been a world champion three times as a singles wrestler by twice winning the TNA World Heavyweight Championship and the ECW Championship.
Ben Hogan is a professional golfer who is often considered one of the best players in the history of the sport.
He was 34 when he had his first major win. Today, Hogan has nine career professional major championships which tie him with Gary Player for the fourth all-time player.
To date, Hogan is one of five players to have won the Masters Tournament, the U.S. Open, The Open, and the PGA Championship.
Hogan is well known for his ball-striking ability and his influence on golf swing theory.
Derek Jeter is well known for his twenty-year career as a player and shortstop in Major League Baseball for the New York Yankees.
Jeter is a five-time World Series champion and has been the recipient of numerous accolades and awards including 14 All-Star selections and five each Gold Glove Awards and Silver Slugger Awards to name a few.
He is the all-time career leader for the New York Yankees in games played, hits, plate appearances, doubles, stolen bases, times on base, and at-bats.
In late 2017 Jeter became part-owner and CEO of the Miami Marlins MLB team.
The Yankees retired his uniform number 2 in 2017. Jeter was elected into the Baseball Hall of Fame in 2020.
Jason Kidd is a former professional basketball player in the NBA.
Kidd was drafted by the Dallas Mavericks in the first round of the NBA draft. In his first season with the Mavericks, he was named co-NBA Rookie of the Year.
He later played for the Phoenix Suns and New Jersey Nets before returning to the Mavericks.
Throughout his career, Kidd has been an NBA All-Star 10 times, an All-NBA First Team member five times, and nine times an NBA All-Defensive Team member.
Kidd is also a two-time Olympic Gold Medal winner as a member of Team USA in 2000 and 2008. He also has been inducted as a player into the Naismith Memorial Basketball Hall of Fame.
Currently, Kidd is an assistant coach for the Los Angeles Lakers.
UFC fighter "The Notorious" Conor McGregor. Need we say more?
Actually, there's a lot to say about McGregor, but we'll stick to the highlights of his fighting career thus far.
Conor McGregor is an Irish professional mixed martial artist, boxer, and competitor in the Ultimate Fighting Championship (UFC).
He has been both featherweight and lightweight champion in the UFC and is ranked ninth in the UFC men's pound-for-pound rankings, third in the UFC lightweight rankings, and fourteenth in the UFC welterweight rankings.
The lovable, rogue, and sometimes villainous McGregor is the first fighter in UFC history to hold two titles in two weight divisions simultaneously and he's not likely to let anyone forget it.
McGregor has headlined five out of the six highest-selling UFC pay-per-view events and his headline bout with Khabib Nurmagomedov broke the record for MMA events with 2.4 million pay-per-view purchases.
His debut boxing match with Floyd Mayweather, Jr. had 4.3 million pay-per-view purchases which landed it second for the most purchases in history.
Mark McGwire, nicknamed Big Mac, is a former Major League Baseball first baseman.
McGwire's professional career spanned from 1986 to 2001. He played for both the Oakland Athletics and the St. Louis Cardinals and won a World Series championship with Oakland in 1989.
He was coaching St. Louis when they won the World Series championship in 2011.
McGwire was known for being one of the most prolific home run hitters in the history of the sport. He holds the record for his at-bats per home run ratio as well as home runs in a single season and home runs hit by a rookie.
Unfortunately, McGwire was a central figure in baseball's steroid scandal and in 2010 he admitted to using performance-enhancing drugs during his career.
Kevin McHale is a former professional basketball player known for playing for the Boston Celtics his whole professional career.
McHale was named to the NBA's 50th Anniversary All-Time Team and has been inducted into the Basketball Hall of Fame.
After retiring from the NBA, McHale has worked as a head coach, general manager, an on-air television analyst.
Danica Patrick has broken records as being the best female professional racing driver in history.
In the 2008 Indy Japan 300, she became the first woman to win an IndyCar Series race.
Danica pushed herself and became a racing champion and legend within the male-dominated sport.
While Michael Phelps does come from a mixed heritage, it does include Irish descendants.
Michael Phelps is a competitive swimmer and is the most decorated Olympian of all time, having won a total of 28 medals. Of the 28, 23 are Olympic gold medals, being an all-time record as well. He holds the long course world record for the men's 400-meter individual medley.
Phelps is an eight-time winner of the World Swimmer of the Year Award and has won the American Swimmer of the Year Award eleven times.
Phelps also won the FINA Swimmer of the Year Award in both 2012 and 2016.
After his wins in the 2008 Olympic Games, Phelps was awarded Sports Illustrated magazine's Sportsman of the Year.
23
John Brian Patrick Quinn
He is most commonly known simply as Pat Quinn and by the nickname, "The Big Irishman".
Quinn is a Canadian and began his junior career in the Ontario Hockey Association (OHA). After his high school graduation, he accepted a scholarship from Michigan Tech but was unable to play due to signing his rights to the Detroit Red Wings.
However, he decided to join the Edmonton Oil Kings of the Central Alberta Hockey League instead. The team went on to the 1963 Memorial Cup.
After turning pro, Quinn played for several minor leagues and was with the Tulsa Oilers when he was called to join the Toronto Maple Leafs in the NHL in 1968.
He is probably best known in his Rookie season with the Maple Leafs for an open-ice bodycheck on Bobby Orr which left him unconscious and started a brawl. This occurred during the playoffs against the Boston Bruins in 1969.
In his career, he also played with the Vancouver Canucks and the Atlanta Flames until an ankle injury caused him to retire in 1977.
Since then, The Big Irishman has gone on to coaching and has worked with teams such as the Philadelphia Flyers, Los Angeles Kings, Vancouver Canucks, Toronto Maple Leafs, and the Edmonton Oilers.
Nolan Ryan was a Major League Baseball pitcher for the New York Mets, California Angels, Houston Astros, and Texas Rangers over the course of a 27-year career.
He was also CEO of the Texas Rangers and the Houston Astros.
Ryan pitched right-handed and his pitches consistently exceeded 100 miles per hour. Ryan was MLB All-Star eight times in his career and holds the MLB record for career strikeouts at 5,714.
Ryan also takes the lead with pitching seven no-hitters which are three more than any other pitcher in history. Ryan was nicknamed, "The Ryan Express".
In 1999, Nolan Ryan was inducted into the Baseball Hall of Fame. Three players in history have had their number retired by at least three teams, Nolan Ryan, Jackie Robinson, and Frank Robinson.
Kenneth Kilpatrick is better known as Ken Shamrock and during the course of his career has been a bare-knuckle boxing promoter, professional wrestler, mixed martial artist, and a kickboxer.
Shamrock, also called "The World's Most Dangerous Man", is one of the pioneers of MMA and has been one of the biggest names in the field.
He's been a headliner for over 15 main and co-main events in both the UFC and Pride FC which have set several pay-per-view records.
During his wrestling career, WWE has credited him for popularizing the ankle-lock submission hold.
Kelly Slater has the distinction of being the only surfer in this list of athletes of Irish descent.
Slater is often said to be the greatest professional surfer of all time. He is best known for winning 11 world surfing championships.
In addition to surfing, Slater is also an author, model, actor, and businessman.
Sam Snead was a professional golfer who was said by many other players and experts to have the perfect golf swing.
Snead was considered to be one of the top players in the world for nearly four decades and often regarded to be one of the greatest players of all time.
He was nicknamed "The Slammer", "The Long Ball Hitter from West Virginia", and "Slammin' Sammy Snead".
Snead is credited with winning 82 PGA Tour events, which is a record. Although he never won the U.S. Open, he was runner-up four separate times.
In 1974, Snead was inducted into the World Golf Hall of Fame.
John Stockton is a retired professional basketball player and is often considered to be one of the greatest point guards of all time.
Stockton spent his entire 19-year NBA career with the Utah Jazz from 1984 to 2003. The Jazz made it to the playoffs each year and in 1997 and 1998 the team made it to the NBA Finals.
Stockton was NBA All-Star ten times and holds the NBA records for most career assists and steals.
John Stockton was inducted into the Naismith Memorial Basketball Hall of Fame twice, in 2009 for his individual career, then the following year as a member of the 1992 United States men's Olympic basketball team, "Dream Team".
John L. Sullivan, better known by his ring name of "Johnny Valiant", was a professional wrestler and manager.
Valiant competed in the World Wide Wrestling Federation (WWWF) which later became the World Wrestling Federation (WWF).
He held the World Tag Team Championship twice during his career in 1974 and later in 1979.
Born as George Michael Ward Jr. in 1965, "Irish" Micky Ward, is an Irish-American former professional boxer.
Micky competed in boxing matches from as early as 1985 until 2003.
In 1997, Ward challenged for the IBF light welterweight title, and in 2000 held the WBU light welterweight title.
Many remember Ward for his three fights with Arturo Gatti; two of these fights were awarded Fight of the Year by The Ring magazine.
The 2010 film, The Fighter was based on his early career and starred Mark Wahlberg as Micky Ward.