"PoshKat" Do Paris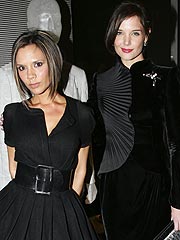 Victoria Beckham and Katie Holmes have left the hubs and kids in the wind and are spending some "girl time" in Paris.
The famous moms were spotted at an Armani party in Paris on Tuesday night. The BFFs, nicknamed "PoshKat," met up for lunch at a quaint bistro called Le Voltaire. This comes just as Posh and hubby Becks received their very on wax likenesses at the Madame Tussauds Museum in the Big Apple.
---
Written by Castina on January 24th, 2007 | Tagged as: Katie Holmes,Popular Culture,Posh 'n' Becks,Posh Spice,Victoria Beckham
What do you think?
Related Articles: