Ozzfest Is Now Officially Free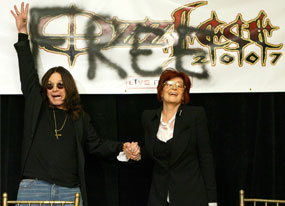 Ozzy and Sharon Osbourne announced on Tuesday that the rock festival extravaganza known as Ozzfest will be free this year.
S.O says she made the decision after prices for last year's tour hit $150, making the summer music fest too pricey for many hardcore fans to attend.
"For the last few years, ticket prices have steadily climbed as artists demand more and more money for summer tours," Sharon said. "We certainly want everybody to make money; however, we also want the kids to be able to afford to come out and have an incredible experience. If we continued with the traditional touring festival model, we would have no choice but to raise ticket prices again this year."
"We're reaching the same point we did years ago when kids no longer wanted to pay for overpriced CDs," the Osbourne mistress continued. "As a result, they found alternative ways of getting music. That's what's happening with summer touring in this country, it's outpricing itself."
Ozzfest will offset the loss in ticket revenue by requiring the show's sponsors to pony up a little additional dough.
Ozzfest tickets will be made available on the Websites of various sponsors; further information will be available at www.ozzfest.com or www.livenation.com.
Ozzy Osbourne is the only confirmed headliner.