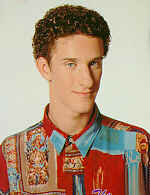 Couple months back, word filtered out that Screech Powers (yeah, we know his name is supposedly Dustin Diamond, but come on – who doesn't think of him as Screech?) did a little acting with several young ladies and it was now available for purchase on DVD. Deviants throughout the land living in their parents basements rejoiced at the thought of seeing Screech do what we all know Zack and Kelly used to do behind The Max.
Only now it appears it may not be Screech in the film. Or at least the important part of Screech for this kind of film.
The New York Daily News is reporting that agent David Hans Schmidt, who somehow convinced some company called Red Light District Video to produce this bit of movie mastery, claims there is doubt as to whether or not the key element of the film actually belongs to Screech.
"I have reason to believe that is not Dustin's [manhood] in the movie," says the agent.
Yikes. Screech's girlfriend, one Jennifer Misner, begs to differ and claims that the goods are genuinely, 100% pure Screech.
There is no word on who the stunt double may have been but we feel confident in these two words: Mister Belding.
Comments Off